WHĀNAU SUPPORT & ASSISTANCE
Check what you might get
Ngā āwhina tērā pea ka whiwhi koe
This guide helps you find out the ways we can help you and your family.
The information below is also provided in the following languages:
Chinese.pdf Cook Islands Reo.pdf Hindi.pdf Tongan.pdf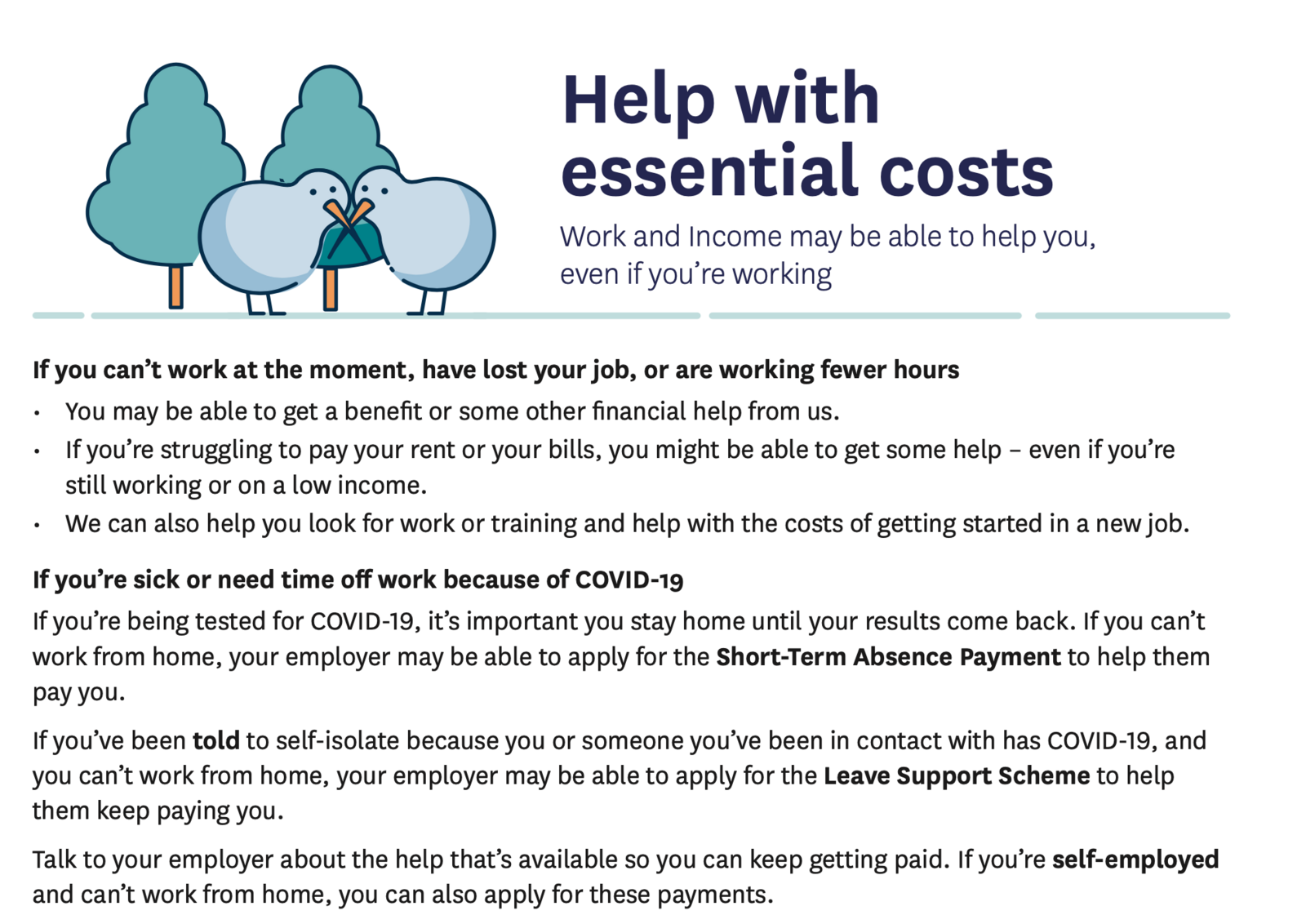 ALERT LEVEL 4 - August 2021
FOOD SUPPORT & ASSISTANCE
Nga Whare Waatea – Food Bank:
This food bank is open for collection of kai on Friday 20th August – The public are encouraged to ring the number below to book a pick up appointment today from 11am onwards
0800 686 232 (0800 MUMAFB)
Please bring PHOTO ID and proof you live in the Mangere, Otara, Otahuhu, Papatoetoe, Manukau, Wiri, Hillsborough, Penrose, Onehunga, Mt Wellington and Royal Oak areas and have a vehicle for collection. Unfortunately we can't take walk-ins so please make sure you call first. Once you have been accepted for a parcel you will be given a time for collection. Parcels can be collected from:
31 Calthorp Close
Mangere
Manurewa Marae:
The Manurewa Marae Foodbank is OPEN for DELIVERIES ONLY. This will commence 18-Aug-2021. At this time we can only deliver to Manurewa residences at this time.
Our form will be turned off once we reach our daily limit and go live again the following day at 9am.
Once we receive your application a staff will contact you within 24 hours to confirm. It is one application per household.
Upon delivery we ask that you all stay inside. DO NOT OPEN YOUR DOOR. Our team will ring and knock at the door and leave your parcel at your doorstep. Be kind, be safe and stay home whanau
Please fill out the link to apply for a food parcel: https://forms.gle/a27RNPdKRxC5fgCE6.
Papakura Marae:
The public are encouraged to ring the phone number(s) below prior to going to the marae
Papakura Marae Clinic - (09) 297 2160
Papakura Marae Pharmacy - (09) 298 6502
Papakura Marae Foodbank - (09) 297 2036
Pukekohe:
Salvation Army, 3 Tobin Street Pukekohe
(09) 238 5641 – They need to verbally fill out a referral when they ring this number and a pick up appointment time will be arranged for them either the same day or the following day.
MSD/WINZ clients:
MSD clients with a payment card can ring the call centre and ask for an additional top up to be added to their card to purchase food.