Welcome to Weymouth Primary!
Kia Ora, Talofa lava, Malo e lelei, Fakalofa lahi atu, Kia Orana, Namaste, Bula Vinaka & Warm Greetings to you all!
FYI
NOTIFICATION OF EMERGENCY LOCKDOWN EXERCISE
Date: 23 June 2021 Time: 11.43
Weymouth Primary School is conducting a lock down exercise. All updates are provided on our website. Please do not come to the school or phone the school as you will not be attended to. We will update this website when the exercise has been completed. Thank you.
Date: 23 June 2021 Time: 12.14pm
We have completed our lock down exercise and all students, staff and persons on-site are safely accounted for. Everyone did extremely well and responded to instructions. A notice will be going out to parents/caregivers tonight to provide some more information about our emergency lock down procedures.
We will be sending a notice/email out tonight providing information on what has occurred today. I would like to personally thank you for your support while we conduct these practices. Kind regards –
Talofa lava and welcome back to term 2 at WPS.
Yesterday we started the term with a powhiri to welcome our new students and families and support staff to our school. We had our first event under the new sunshade and can I say the singing was fantastic. We look forward to a wonderful term working together with our families to support and offer our students every opportunity in their learning. We have some trips planned - so watch this space. We also have reporting to parents coming home in the last week of the term. Remember our doors are open all the time and you are welcome to come and chat or see your child in action in the classroom.
Kia ora our Weymouth whanau.
Matua Reg our kaumatua is starting a 10 week course in Tuia Te Kakano O Te Reo Maori. Please contact Matua if you are keen to join. Classes are in our whanau hub starting tonight at 6.30pm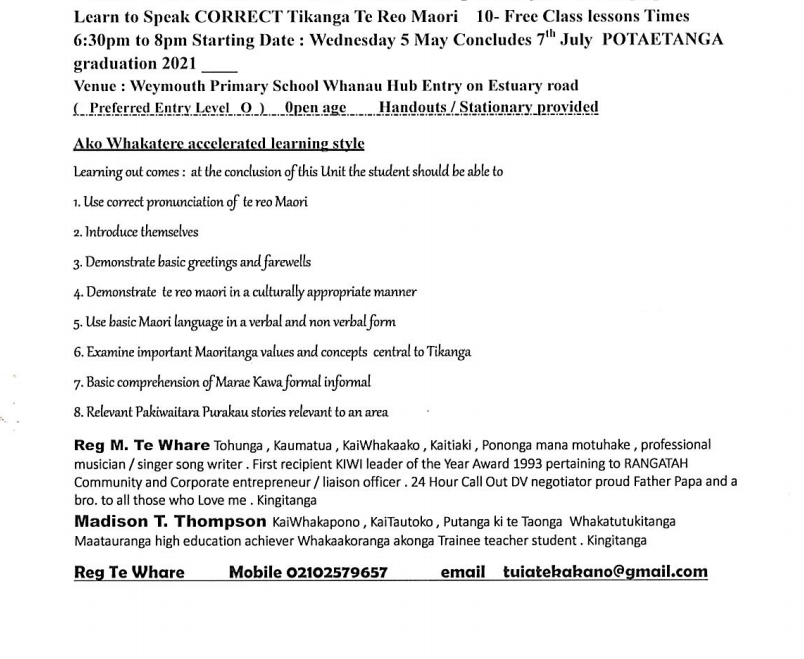 Talofa lava.
On September 2019 the Prime Minister and Minister of Education announced that Aotearoa New Zealand's histories will be taught in all schools and kura from 2022 onwards. We would like to hear your views on the draft curriculum content. More information and an online survey are available at: www.education.govt.nz/aotearoanzhistories
ATTENTION FAMILIES
We have a selection of children's rugby boots free to a good home.
Please pop into the office when school starts if you are looking for a pair for the upcoming season.